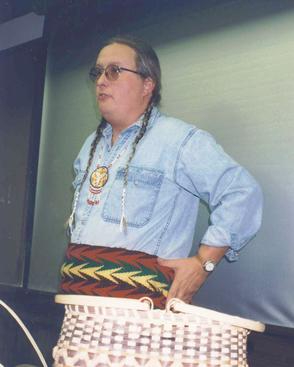 Donations help our social and
educational services
In North America, especially the USA, Indigenous Peoples have been mostly disappeared from news, public school curricula, social agencies policies and general awareness of most Americans. There is a great need for education. We are dedicated to improving knowledge about the Peoples of Turtle Island and providing services to individuals and groups in counseling, genealogy, cultural and language restoration. Most of this is done free as many Indigenous persons have limited resources. Also several informational guides are being developed.
We sell art in order keep doing this but it is just part of what is needed. Select the button below to make a donation. Your contribution helps us make a difference.
In the photo to the left, Paul-René was doing a free workshop on arts in 1995. Many free programs and services have been provided over the past 30 years . Any donations help us continue.