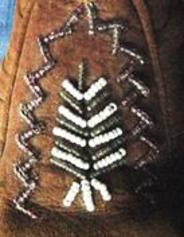 Paul-René and his Indigenous
American art inspiration
Paul-René's art is inspired by his ancestors and his many years spent with artists and crafts people across the US and Canada. Much of his early efforts were focused on giving a contemporary expression of traditional Woodland style art. Paul-René is enrolled with the Nulhegan Band of the Coosuk – one of the first Abenaki Nation Bands to gain state recognition.
In Abenaki "Koas" is a 'Little Pine' and "Koasek" or "Coosuk" is 'place of the little pines'. This pine tree with its White Roots – is an important symbol to Paul-René as it was the symbol used in his family. It is also symbolized, for Helen and other family members, the connection to Onondaga and the Longhouse People. Paul-René's grandmother's moccasins have little pine trees on them.
Below are photos of the moccasins and a photo of Paul-Rene's sister with our grandmother in 1963.

This pine tree symbol helps Paul-René feel connected to both his Haudenosaunee/ Onondaga and Algonquian/ Abenaki ancestors. Much of Paul-René's art work includes the pine tree symbol. Through all these influences (as well Bear Clan emphasis) Paul-René has remembered the Newfoundland roots – but the Native art "jelled" in the States – and all have contributed to his artwork. This can be seen in the use of many turtles, trees, flowers, fiddleheads and bears- all important Eastern Native art symbolism.
One branch of the family lived in Newfoundland for many generations in and out of Bonavista Bay and traveling the St. Lawrence and Labrador coast regularly. Some of the family left Newfoundland after several generations to return to northern New England and New York.
Helen Merritt Smith about 1982 with Paul-René's only biological sibling, Mary Elizabeth Tamburro in 1982. His sister died in 1985 and Helen 5 years later. The other photo is of Mary Elizabeth at a Powwow in Massachusetts, 1973. Powwows were something some members of the family were involved in more many years.
Helen was Al Merritt's sister shown in the photo at Mashpee.
Helen was the keeper stories in the family. She learned as a child from Paul-René's great-grandmother Maria Hancock who raised Helen after Helen's mother died. The stories were about our matrilineal Bear Clan and Onondaga ancestry. Her stories described ancestors that were Algonquians who mixed with Onondagas and traveled to and from Newfoundland on the St Lawrence River. It seems that all family travel was by boat and canoe. Some of the family boat trips went big distances.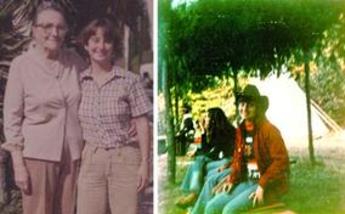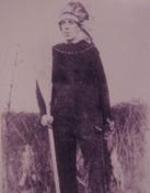 Al Merritt at Mashpee
Powwow 1928
Several family members emphasized our Algonquian ancestral culture by attending Native events in the early 1900s. Helen told me she made this for her brother to wear along with beadwork she did – in the form of little turtles for Ed Amos - Mashpee medicine man whose name "Slow Turtle". This name later went to Ed's nephew John Peters in Massachusetts.
Maria Ash Pike around 1870
a Native Newfoundlander, moved to Boston 1870′s.
The image above shows one of Paul-René's ancestors, Maria Ash Pike, of Onondaga and Algonquian ancestry, born in Newfoundland. She is the one who inspired the matrilineal line of Paul René's family from which he gets his Bear clan decent. Stories vary about the ancestry mix but include Inuit, Algonquian, Beothuk & Onondaga. These may all have truth because our family was clearly living on various Islands and traveled around Labrador, Newfoundland, and the St. Laurence River as far back to before 1800 in our oral tradition. In several generations of Native marriages there were several Native Nations incorporated into our family. This has lead to interest in researching Metis and other mixed heritages. Many people called "fake Indians" or "Wannabees" etc have Indigenous real stories to foreground - being Indigenous has been hard in the Eastern parts of North America.