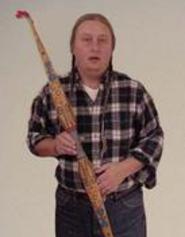 Mentors Influencing
Paul-René's Native Art
During Paul-René's youth in the 1960′s and 70′s he worked with Woodland Indian artists Tom Two Arrows (Lenape/Onondaga) and Harold Tantaquidgen (Mohegan). These years were also spent with most of his available time in the newly developing "powwow circuit". During this time Paul-René sang with Ponca (Oklahoma) and Lakota (Northern Plains) style "drums". Today we feel most close to the music of Eastern Woodland music. We have spent many years in the Northwest both on the Coast and Plateau and the Midwest cultural areas and have incorporated many cultural themes into our work.
Paul-René's first University experience was at Unity College in Maine where he had a work study assignment with the Maine Tribal Unity Museum and Cultural Center Director, Peter Smith Terry. It was here that a love and appreciation for ash splint and sweet grass baskets became strong – the Peter Smith Terry Collection was donated by Unity College in 2002 to Abbe Museum which is dedicated now to Wabanaki Nations :http://www.abbemuseum.org/pages/collections/collections-overview.html
House made by Ralph Bishop 1997 - Terry inspired Ralph
Ralph "Porcupine" Bishop, Troy Maine, made this house to give to my mother in 1997. We are cousins and both worked with Peter Smith Terry in the Maine Tribal Museum and Cultural center before Peter's death in 1976. Ralph became inspired to make a living doing bark and quill work while with Peter, similar to the inspiration and encouragement given to Paul-René to pursue Northeastern art rather than that of other First Nations.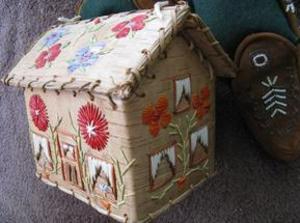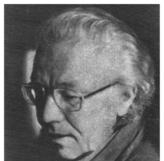 Peter Smith Terry, 1974 – Director of the Maine Tribal unity Museum and Cultural Center
One of the artists Paul-René spent time with while young in the pow-wow circuit was Tom Tow Arrows Dorsey who helped him with his roots in the Northeastern culture as many others, especially the Indianists and Hobbyists who sponsored many of the large northeastern powwows back in the 1960s and 70s were interested in the western plains tribes especially from South Dakota and Oklahoma.
Tom Two Arrows Dorsey about 1971. Tom claimed Lenape family heritage but never enrolled. He studied at the Onondaga reservation as a youth. Paul-René was mentored at powwows by him learning Woodland style dance, songs and art. Recently, Tom's background has been questioned as he was not enrolled in a federal or state tribe. This is a common situation for many of the African American/ Native American Mixed people in the Eastern USA. His intense love for our cultures and art forms inspired many and his work is displayed in several museums. I hope to write more about him and am researching and compiling material for a book in the hopes it will give a better understanding of the complex Indigenous culture formed by mixed communities. . Please contact us if you have material you would like included. We also want to work more with communities of mixed-racial and ethnic background inthe Eastern parts of North America who want to record and restore their histories.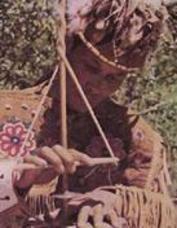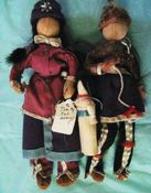 Group of No Face dolls made by Tom Two Arrows – the male doll wears 2 small silver gorgets.
Tom was very detailed in his art referencing our Northeastern culture. Once at a powwow in New York, Paul-René put together and wore a Cheyenne based Western Plains traditional outfit for dancing, as he had learned from some Indianist fiends who love to follow the Plains tradition of "Old style" dress. Without even looking up from his art work, Tom said: "So… are you Eastern or Western?" The Old time Western outfit was never wore again, our Eastern art & cultures have a lot our art too! Since then I have worked hard to incorporate our cultural art forms into our work. This is now being done by many since about 1990 but was rare in the 1960s to 1980s