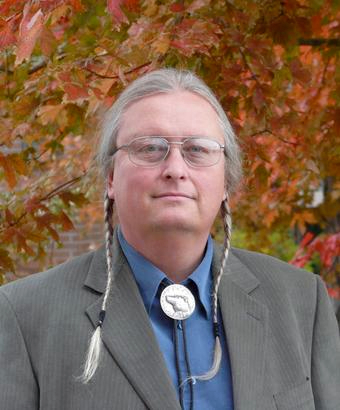 Paul-René Tamburro, PhD, MSW, MA
The name "Sunrise Drum" combines the Wôbenaki ('People of the 'Dawn' or 'Sunrise') with Paul-René's last name (Tamburro) meaning "drum". His Abenaki name translated also contains the word 'drum': Môjassadop Spiwi Pakholigan – "Began with a Drum". This name, given to him during his adolescent years while a participant in the East Coast "Powwow circuit" reflects the large amount of time spent sitting at the drum learning Northern, Southern and Eastern song traditions.
Paul-René has combined studies in his life in the hopes of finding ways to sustain and support First Nations / Indigenous languages and cultures. There are many people with Indigenous North American "blood", tribal/ band enrollments, or DNA – but the languages and cultures are disappearing fast. For this reason, he earned graduate degrees in anthropology, linguistics, and social work. Paul-René has taught courses at numerous universities and colleges including Indiana University, Indiana State University and Purdue University in Indiana, The Evergreen State College (TESC) and Heritage University in Washington State, University College of the Cariboo and Thomson Rivers University (TRU) in in Kamloops BC, Canada and others. At TRU , Paul-René added Indigenous content into their social work program. Prior to this, Paul-René was Director of the Reservation Based/Community Determined Program at TESC.
Ph.D. & MA, 2006 & 2003, Anthropology. Indiana University.
MSW, 1990, Salem State College, Salem, MA. Focus: Child & Family Services.
MA, 1982. Language and Linguistics, University of New Hampshire.
BA (BSW), 1980. Social Service, Minor, Sociology, University of New Hampshire (Durham).
American Indian Studies, 1974-1975. Unity College, ME. Community & Culture revitalization focus.
FIRST NATION ENROLLMENT AND EXPERIENCE:
Both Paul-René & Andrea are enrolled in state recognized tribes. They have experience with urban and rural reserves and reservation communities as well as community organizations such as urban Friendship Centres, Métis organizations, nonprofit organizations serving Native Americans, powwow and cultural committees, mixed tribal social / cultural groups and "mixed race" Native groups such as Melungeon and US based metis.